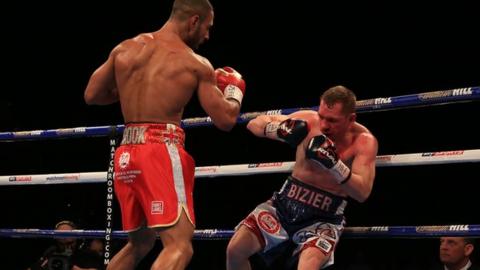 It was early and it was over early. But short as the fight was, here are the five things we learned from the Kell Brook-Kevin Bizier fight:
Hardly Broke A Sweat
Kell Brook was just getting warmed up but Kevin Bizier could no longer take it. Brook didn't look like he was in a hurry but still he finished Bizier rather quickly. You'd expect more from a #1 contender but Bizier's style was tailor-made for Brook. The Canadian didn't have any head movement and he just stood right in front of a predator. The result? Fight was over within two rounds.
Kell Brook Looked Special
There was just one weight class in that fight and that was 147. However, there were two kinds of fighter insider that ring. One was good, the other was special. Prior to this fight, Kevin Bizier had lost twice, both to Jo Jo Dan. Brook retired Dan in four rounds during his first title defense in 2015 so you kinda got the picture. Nevertheless, it wasn't Brook's fault because Bizier was his mandatory. Brook just did his job as a fighter. However, the win left more questions than answers about how special really Kell Brook is.
Needs and Deserves Bigger Challenges
The only way to answer that question is to give Kell Brook a big fight. There is no questioning his skill and power but to know where he really stands in the 147 pound division and the sport as a whole, he needs a real challenge next. A big name in a big fight should be next for Brook. His last two bouts have been mandatories. He can't measure greatness with mandatory challengers. It's time to step up his level of competition, even if that means having to fight outside of his comfort zone in England.
Time For Hearn To Deliver
Eddie Hearn did say after the fight that they were willing to go to the US to get that big fight but then Hearn also talked about bringing the big fight to Bramall Lane. Hearn's got to realize that outside of Khan, the big fights are in the U.S. And didn't Hearn fail to book Khan? Wasn't all his fault though but after Brook did his job on Saturday night, it's really hight time for Hearn to deliver that big fight to Kell Brook.
Unify The Belts
The first thing that came out of Kell Brook's mouth after the fight was "green belt". Although he also mentioned Pacquiao and Bradley, it was Danny Garcia's name and title that is on top of Brook's mind. Unifying the belts isn't a bad idea, not especially if it's against Danny Garcia. Or even Keith Thurman or the winner of Thurman-Porter. Garcia and Brook are two of the new stars at 147. The winner of Pac-Bradley would be good too. But hey, whatever happened to Amir Khan? We never heard that name during the post-fight interviews.