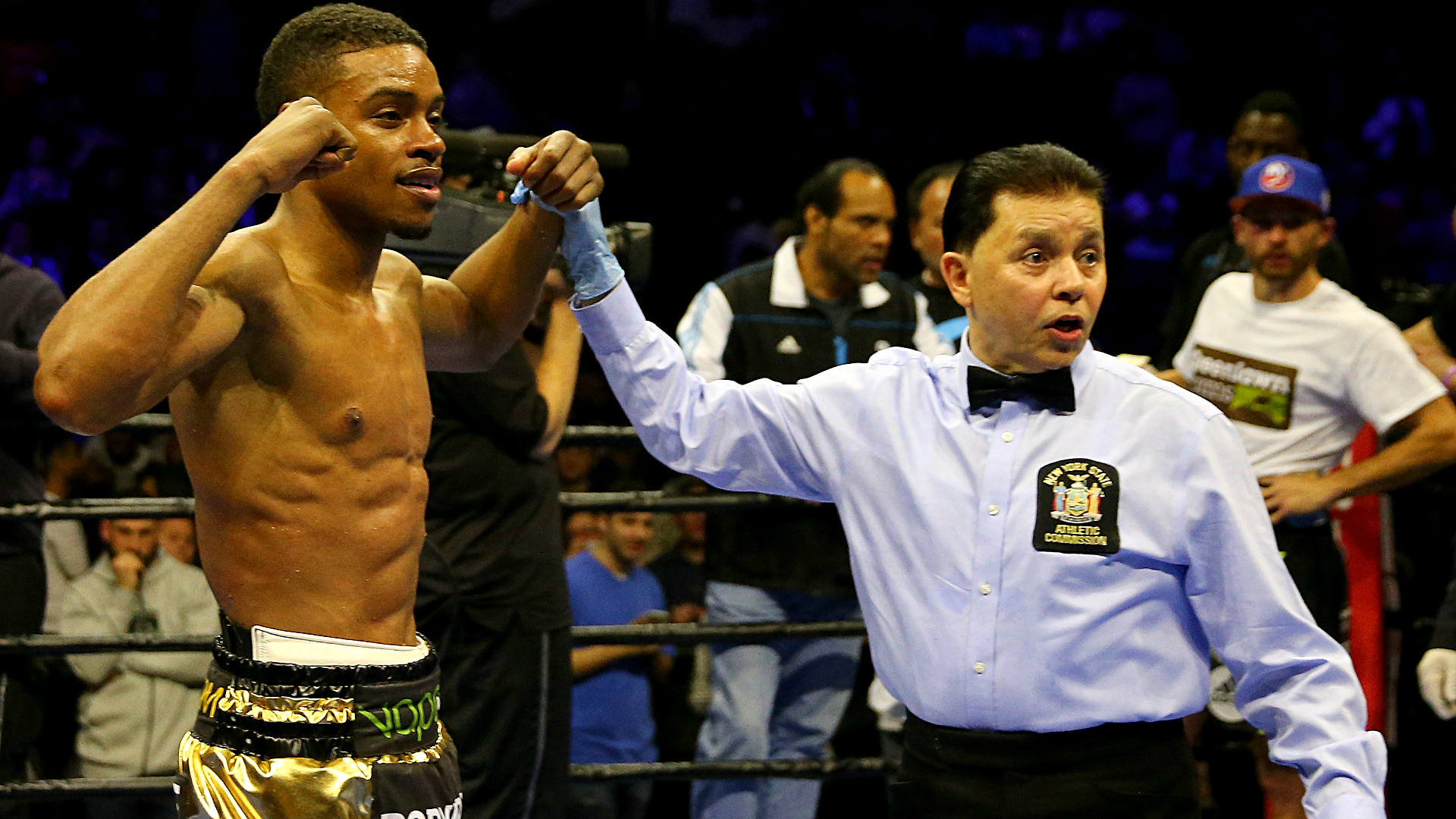 Errol Spence came to Saturday night's match with Chris Algieri with a lot of expectations hanging around his shoulders. It all didn't matter because the kid didn't just deliver. He drove home a point.
Here are the five things we Learned From Errol Spence's 5th round KO win over Chris Algieri:
Errol Spence Is The Truth
Boxers have nicknames and Spence's is The Truth. Before Saturday night though, we didn't know whether he was really that. Well, he was good 19-0 with 16 KOs but he was virtually untested. On Saturday however, we found out the truth. And the truth was Errol Spence. Chris Algieri had never been stopped before. Not by Amir Khan, not even after 6 knockdowns from Manny Pacquiao. Errol Spence obliterated Chris Algieri. He dropped the Fighting Collegian thrice including the fight ending knockdown in the fifth round. No, we're not saying he's better than Khan, Pacquiao or both. But he belongs to the elite. Errol Spence is the truth.
Spence Unloaded The Entire Arsenal on Algieri
Errol Spence came to the fight throwing an average of 323.7 punches per fight, landing 128.6 of those. On Saturday, Spence wasn't as accurate as his 39.7% connect percentage but he was throwing all kinds of punches at Algieri at a blistering pace. Spence went 96/311 (30.87%) with his punches while Algieri could only land 36 out of 114 punches. After a feel out round 1 where he landed just 10 punches, Spence hit Algieri with 22,32 and 28 punches in the next three rounds to dominate the bout. 73 of Spence's total punches landed were power punches while 33 of his total connects were to the body. It was just too much to take for five rounds for Chris Algieri and he got overwhelmed.
You Can Also Call Him The Baby Faced Assassin
If you take a look at his face, Errol Spence looks like a kid right out of high school. When he's inside the ring though, he transforms into a serial killer. Take a look at his record. He's 20-0 with 17 KOs. That's an impressive 85% KO ratio. 16 of those KOs have come within 5 rounds and that includes his win over Chris Algieri. With all due respect for Marco Antonio Barrera, Spence can be alternately called the Baby-Faced Assassin. The power in his fists is legit.
Chris Algieri Disappointed
He was supposed to be the first real test of Errol Spence's young career. Instead, Chris Algieri never got going and didn't do anything except show up on Saturday night. In contrast to Spence's impressive punch output, Algieri could muster only 36/114 punches. Algieri was out-jabbed 23-3, and was hit with twice as many power shots as he landed 73-33. Algieri's performance was a disappointment to the 7,628 boxing fans who were in attendance at the Barclays Center, many ( or most ) of whom were there to cheer Algieri who is from Huntington, New York.
Spence Called Out Kell Brook, Danny Garcia
A spectacular performance like this deserved a call out. And Spence didn't disappoint. He called out IBF titleholder Kell Brook and former unified 140 pound champion Danny Garcia, both of whom are the two rising stars in the all-new 147 pound weight class. With Floyd Mayweather Jr. retired and Manny Pacquiao heading that direction, the Welterweight Kingship is still vacant. Pacquiao recently unmasked Tim Bradley while others like Keith Thurman, Shawn Porter and Amir Khan all have fights booked. Spence is going up, and he was right to call out Brook and Garcia. A match-up with one of the two should be the break Spence is waiting for. A win against either will propel him to full superstardom.