As Manny Pacquiao prepares for what is likely the last fight of his legendary career, his trainer Freddie Roach admits that Manny is no longer the same guy who knocked out Ricky Hatton.
Beating Oscar De La Hoya in the Dream Match of 2008 marked the transformation of Manny Pacquiao from boxing star to megastar. But it was Pacquiao's 2nd round destruction of Ricky Hatton five month laters that confirmed his status as the best fighter in the planet, regardless of weight class. Defeating Hatton made Pacquiao one of only two six-division world champions in sport history, the other one was De La Hoya. It also cemented his claim as the top Pound For Pound Fighter in the planet and the sport's new top draw with Floyd Mayweather in hiatus.
After beating Hatton, Pacquiao's climb in the weight classes continued. He battled Miguel Cotto, Joshua Clottey, Antonio Margarito, Shane Mosley and Juan Manuel Marquez in succession, beating all by decision. Next up for Pacman was the previously unbeaten Timothy Bradley, in a fight that would end with one of the most controversial decisions in boxing history.
In a fight where Manny Pacquiao appeared to dominate from start to finish, Timothy Bradley won via split decision. The judges scored it 115-113,113-115 and 113-155. The judges' scorecards were a stark contrast to how the media and experts scored the bout. ESPN had it 119-109 and so did guru Larry Merchant. Because of the controversy, the WBO championship committee decided to review the bout and after a lengthy study, they concluded that Pacquiao should have won the bout. However, because only the Nevada State Athletic Commission could reverse the decision, the WBO recommended a rematch between the two combatants.
But the anticipated rematch was put on hold after Pacquiao suffered a stunning 6th round one-punch KO loss to nemesis Juan Manuel Marquez. With Pacquiao starting to dominate the fight after getting knocked down in the third round, Marquez landed a ducking right uppercut to Pacman's jaw, sending the Filipino out cold in the canvass where he remained unconscious for nearly a minute. 11 months later, Pacquiao bounced back to beat Bam Bam Rios is Macau and set up a rematch with the man who gave him his first defeat since the Erik Morales loss in 2005. This time, Pacquiao finished stronger and won the bout by a clear unanimous decision.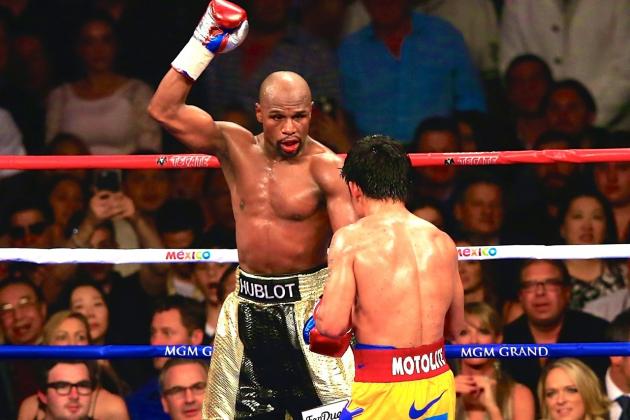 On May 2, 2015, the Fight of the Century finally happened. It was a phenomenal business success, breaking the All-time sport record for gate receipts and PPV buys. But it turned out to be a one-sided affair in favour of the smart and tactical Mayweather who refused to be lured into a slugfest. After the fight, Pacquiao blamed his poor showing to an injured shoulder. Only a handful believed him. Mayweather refused to give Pacman a rematch and instead finished his unbeaten career with a win over an overmatched Andre Berto.
As Pacquiao rehabilitated his injured shoulder, he announced his intention to run for a Senatorial position in his native Philippines and at the same time announced that his next fight would be his last. After considering Amir Khan and Terence Crawford, Top Rank announced that Pacquiao will be facing Bradley for a third time. But while Pacquiao die hards rejoiced, many wondered what was left of the great destroyer at who captured the imagination of the world by winning 8 world titles in as many weight classes.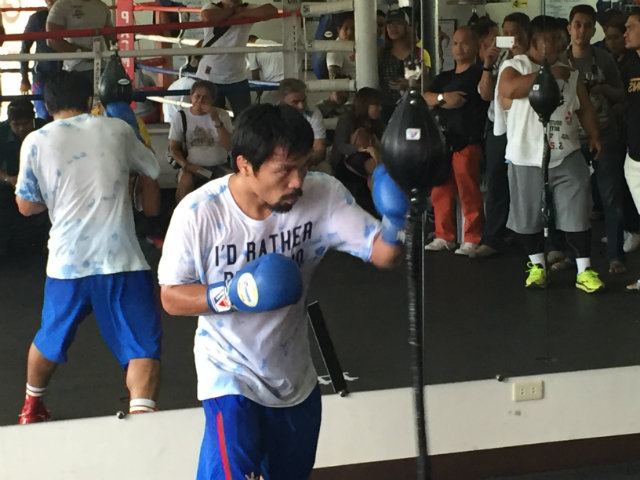 After a month's training at Pacquiao's own gym in his hometown of General Santos City, Philippines, the Filipino Ring legend flew to Los Angeles last Saturday for the final stages of his training. While Roach acknowledged that he was "pleased" with how their camp in the Philippines went, he admitted that Pacquiao is no longer the destroyer that annihilated Ricky Hatton:
"It's pretty much the same but he's slowed down a little bit- I will honestly say that. He's not the same guy who fought Rick Hatton, right now."
To say Pacquiao's slowed down "a little bit" may be too generous. Manny Pacquiao is no longer the destroyer we used to know. Since stopping Cotto in 2011, he hasn't recorded a knockout. His critics say he no longer has the same killer instinct that made him one of the best finishers in the sport. Critics said he had been "softened" by his political career and dedication to religion. But then perhaps it's just because Father Time is catching up fast on one of the sport's all-time greats.
Pacquiao's been known to perform well under great adversities. But perhaps the greatest storm he's ever provoked was last month when he defamed gay people with a biblical interpretation. Pacman has since apologised, but that blunder led to the cancellation of his Nike sponsorship and countless criticisms from various groups. It will be interesting to see how the great Manny Pacquiao rises to the occasion again versus an old nemesis.