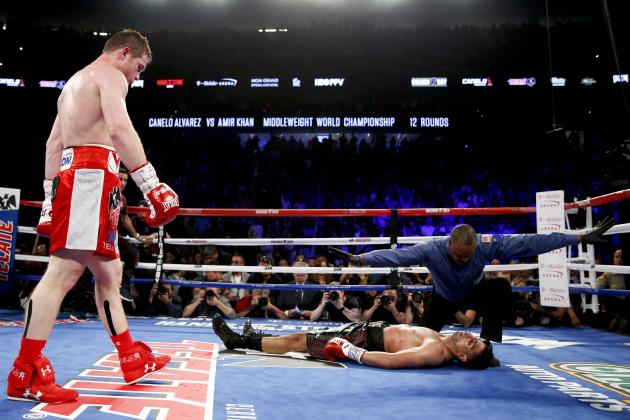 Saul "Canelo" Alvarez knocked out Amir Khan cold in the 6th round of their Middleweight title bout last Saturday. There is no question about that. However, famed trainer Teddy Atlas thinks that the judges scoring of the bout thru five rounds was a travesty and the fans agreed on the Throwdown Scoring application. The Fans on the Throwdown scoring application agreed with Atlas and had it 49-46 for Khan after five rounds.
Said Teddy Atlas:
"What a travesty it would've been -- let's say he continues to box, let's say that Khan didn't get caught with that punch. Oh my God, what a travesty it would've been to have him continue boxing that way and have him lose the fight. One judge have it four to one. Two judges had Canelo ahead. One judge had Khan ahead. But one judge had it four to one! How do you do that?" he also added: "Not everyone loves the truth, but it's pretty simple. He did a good job, he caught him after losing the first five rounds."
After five rounds, Glenn Feldman scored the bout 48-47 for Alvarez, giving Khan Rounds 1-2 and Canelo 3-5. Adelaide Byrd had Amir Khan up 48-47, awarding Khan the first three rounds and Canelo the next two. The third judge, Glenn Towbridge had it 49-46 in favor of Alvarez with Khan winning only Round 1 in his card.
As Teddy said, had the fight continued and Khan continued to box the way he did, he still would have lost by decision. However, if we take a look at the final punch stats, Canelo Alvarez did more damage even though it wasn't that much:
Khan was up in power shots landed, 26-20 after four rounds. Alvarez only started to turn the fight around in Round 5 when he ended it with a 53-41 total punches landed lead over Amir Khan.
So Teddy Atlas may have a point. Even Amir Khan took notice of the scoring anomaly:
And it was backed up by the scorecards of the fans at Throwdown Scoring. So what do you think of the Canelo-Khan scorecards? Not that it mattered in the outcome. But what if it went the full route? Wasn't Khan's boxing and Virgil Hunter's game plan enough to beat Canelo? Or was it like Teddy said, a travesty for the sport.